day & night - 150 NM - sailing experience on Volvo Ocean Racer
SHORT ABSTRACT: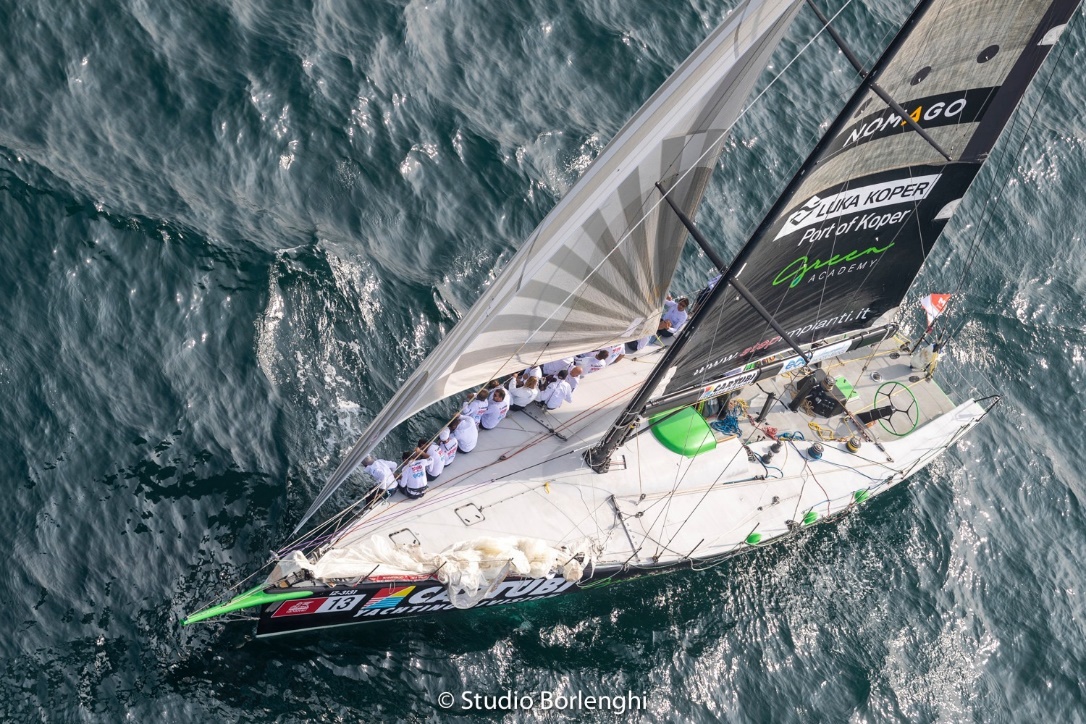 boat: VOR 60 – »CleanSport One«
location: PIRAN – VENICE – PULA – PIRAN
duration: 3 days / 2 nights with a PIT STOP* / 150 NM
available berths: 8 persons* + 2 persons / professional crew members
check in / out: MARINA IZOLA
date: by agreement / custom choice / available date
*maximum variation +/- 2 person
PROGRAM:
1. DAY: 08:00 h - 12:00 h check in / meeting the crew and learning about the boat – boat and equipment preparation 13:00 h sail out of the marina Izola – sailing – training
17:00 h sailing towards the 1. stage*
2. DAY: early morning »PIT STOP« at 1. stage*
13:00 h sailing towards 2. stage*
afternoon »PIT STOP« at 2. stage*
3. DAY: 08:00 h sailing towards 3. ( last ) stage
8:00 h sail to Marina Izola / tidying up the boat / equipment - check out*
ACTIVITY INCLUDES:
boat charter with full equipment for OFF SHORE regatta
skipper + pro bowman ( experienced competitive sailors )
insurance, navigation tax & fuel
food & drink during sailing
overnight stay on the boat
DESCRIPTION
GOAL
The activity of day & night sailing experience is a chance of lively and practical learning of individual parts/sections of open-sea sailing. It is based on the importance of the role of team management on a racing sailboat. We shall learn: to control each working position, safe navigation on the high seas, proper use of OFFSHORE safety equipment, meteorology basics, navigation planning, night navigation, advanced regulation and sail changes - CODE 0 – GENNAKER - STORM SAIL etc., shift foresight, proper preparation of food and drink forOFFSHORE sailing and so on.
PLEASURE
For a wholesome experience we have included sailing "past" three major cities, namely PIRAN (Slovenia) - VENICE (Italy) - PULA (Croatia). These are the places where the mere passing through them with a sailboat gives an interesting experience (imagine sailing the Canale Grande in Venice ). Pre-agreed with shorter "PIT STOP"-s we can also visit these cities.
CHALLENGE
To spice it up, we envisioned a sailing program with competitive inspiration. The time from start to finish of every single stage will be measured for each individual crew. Regardless of the direction of navigation, PIRAN - BENETKE - PULA - PIRAN or vice versa and "PIT STOP"-s. Planning the voyage we have set fixed "goals" (beacons, etc.) that need to be sailed across or passed. Time of active sailing will be measured. Challenge duration will be from1.3.2020 till 31.3.2021.
PRIZE
Two members of the winning crew will receive a special invitation to participate in one of the one-day regattas, with CLEANSPORT One and the pro crew of CLEANSPORT TEAM. The draw will be held at the headquarters of CLEANSPORT d.o.o. and will be posted on our website and our social networks.
RESPONSIBILITY
With many years of navigation experience, we have recognized the problem of sea pollution. This encouraged us to be the proud founders of first nature preservation oriented sailing program in the Slovenian sea, "GREEN ACADEMY" or "ZELENA AKADEMIJA". In addition to raising public awareness, with our program we promote the slogan "NO PLASTIC ON BOARD", which binds us in all our activities. Learn more about the GA program at this link.
https://www.facebook.com/educationalsailing/
GOOD TO KNOW
BERTHS
This boat is a race boat, so slight accommodation inconvenience is to be expected. There are no cabins,
but the beds are comfortable enough to rest during a longer voyage - regatta (OFFSHORE) and to rest
during waiting for the next stage. There aren't as many beds as the total number of crew members, so
there will be some improvising like sleeping on some kind of a bag with a gennaker ... a great
experience. Own sleeping bag is required. For those who want comfort, every destination where we
do the activity offers hotel or apartment accommodation. Therefore, it is only necessary to organize
and book in a timely manner.
CLOTHING
At sea, almost the same rule applies as in the hills - "less is more". So we must be equipped for all kind
of weather conditions. Everything we need to keep us from freezing, getting too hot or wet, can be
stored in 30 l to 40 l "waterproof" backpacks. The "military" standard discipline applies, we have all the
clothes in our backpack even while sailing, everything should be in perfect order. If you wish, we can
prepare a list of suitable equipment for you to check if you have it all. You can order various pieces of
clothing, if there is something missing in your backpack, for a very reasonable price.
FOOD
Each one of us has a different culinary preference, but on a sailboat the unwritten team spirit rule
applies. What is it about? Basically sports sailing does not offer restaurant comfort, so food should be
conveniently prepared as so it can be eaten while at least one hand can stay operative. It has to offer
sufficient energy value because of the "hard" work and sometimes even "starving" that every member
might have to endure during sailing due to weather conditions. It is also important to prepare and store
a sufficient amount of food, and at the same time appropriately distribute it according to the
estimated time of the voyage. A culinary master (usually the cabin organizer), along with the
skipper, prepares a suitable "Menu" according to the planned voyage. It is also good to know that on
the boat, we shall not cook if navigation doesn't last more than a continuous 48 hours. So a suitably
varied sports diet should be considered in this case.
Even after sailing, the unwritten rule of team spirit applies.
In the vicinity of the mooring there is always a suitable place/restaurant where we can sit
down and have a warm meal. There we can debrief our sailing experience of that day.
A common menu should also be agreed upon and if there are any nutritional restrictions for someone, the skipper should be informed in advance.